D.I.P. Outreach Ministry- Violence & Hunger Prevention
Divine Intervention & Prevention
OUTREACH MINISTRY OF H.E.L.P.
| | |
| --- | --- |
| Posted on July 20, 2015 at 2:39 PM | |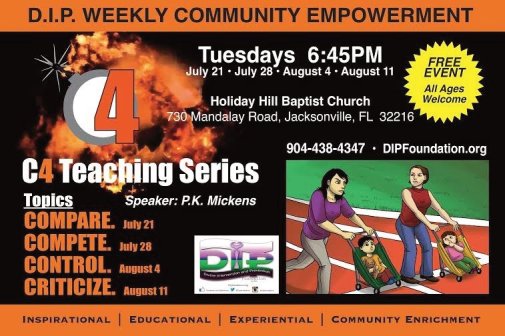 Empowerment Tuesdays is a weekly inspirational, experiential, educational meeting for the community all ages. It gives attendees an opportunity to worship, fellowship, evaluate themselves based on the message that given.  D.I.P. is an educational Outreach ministry for the prevention of domestic violence, our messages for the empowerment series are bible based and point out how everyone is subject to becoming an abuser or being abused. D.I.P. believes that divine healing takes place when we get to the root that is causing the fruit of bad behavior. This is not a traditional meeting about domestic violence and abuse simply because those who are abusing or being abused would not attend unless they were court ordered. However, the power of the Holy Spirit has and will continue to convict attendees to see that there is a problem and Jesus is the only One to solve it.
 We simply have to meet people where they are to disciple them through the word of God so they may apply it in every aspect of their life.
Categories: awareness, conference, domestic violence, empwerment, events, holiday hill baptist church, jacksonville, relationships, social media, victims safety
/