D.I.P. Outreach Ministry- Violence & Hunger Prevention
Divine Intervention & Prevention
OUTREACH MINISTRY OF H.E.L.P.
| | |
| --- | --- |
| Posted on December 10, 2014 at 11:22 PM | |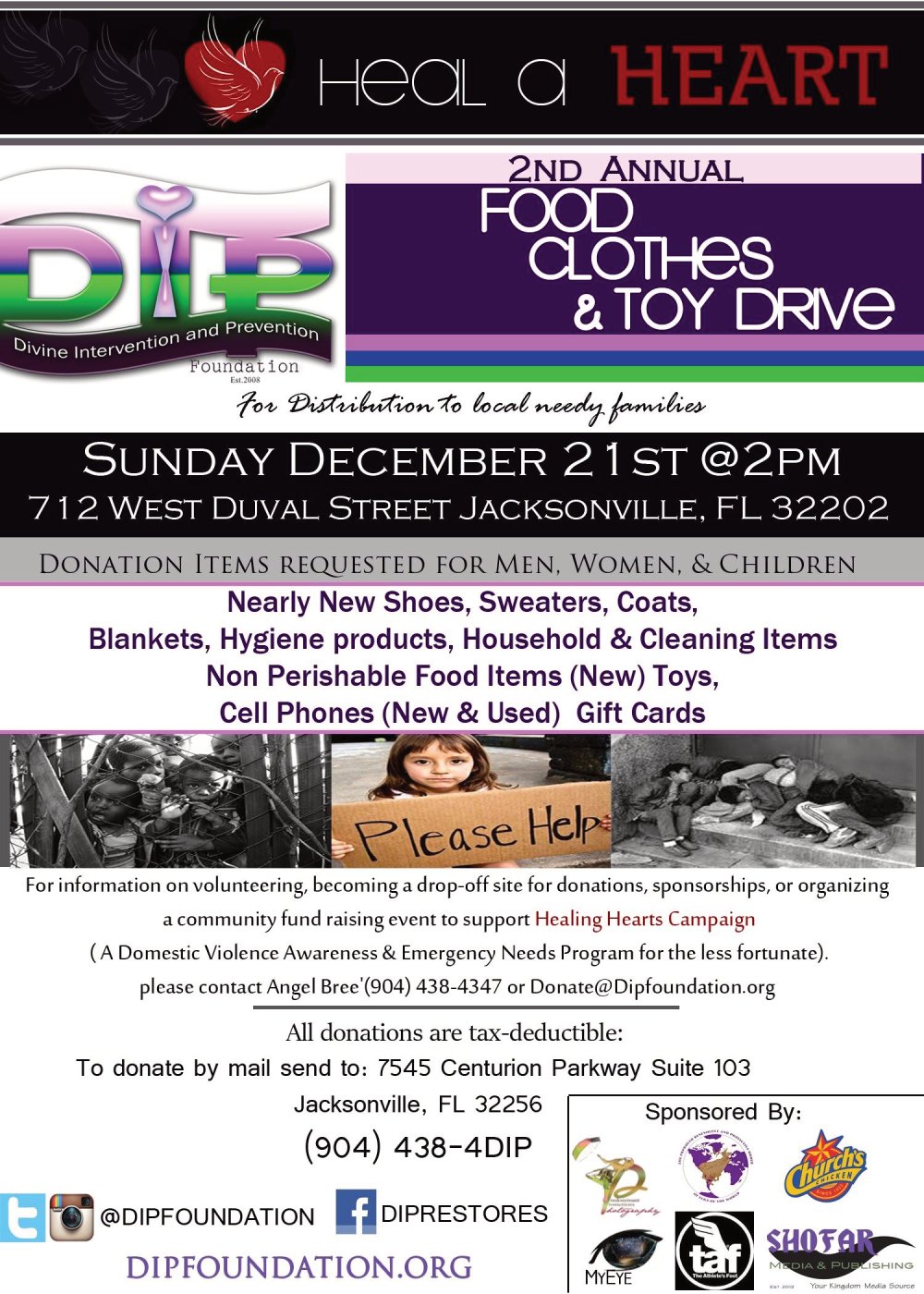 Chris Brown has it wrong: The world, at times, isn't loyal. Society tends to be loyal to the hustle and bustle of their daily lives. Their minds are consumed with their own problems or scrolling down their Facebook timeline to get a glimpse of Kim Kardashian's latest antics. As we enter into the holiday season and sit at our family dinner tables breaking bread and giving thanks, we can choose to un-follow society's lead and ground ourselves into the spirit of giving to our fellowman in need. During November and December, stress runs high in most families. Finances are stretched to buy gifts or to travel to see family members. Seeing those family members we don't quite get along with or not being able to see relatives and friends can add even more stress to a relationship. Excessive alcohol consumption is usually an added factor at this time of year. Sometimes our expectations of what should happen compared to what actually happens can give us the holiday blues. Many of us try to out do ourselves during the holidays and arguments happen. But what about abuse during the season? How can it be prevented?On Sunday, December 21 D.I.P. Foundation will be hosting its 2 Annual Food, Clothing & Toy Giveaway: 712 West Duval Street Jacksonville, FL 32202 at 2PM.  The event's purpose is to rally community supporters together in order to ease someone's pain by bringing some holiday cheer to needy families in Jacksonville. We all endure our own challenges in our lives.  We go through them so that we may be a beacon of light to others.  Help someone know that there is a light at the end of the tunnel.  Volunteer your time, lend a listening ear and heart, or donate funds to help the D.I.P. Foundation with its domestic violence prevention mission.About D.I.P. Foundation: A local  grassroots 501 (c) 3 charity dedicated to improving the quality of life for abused men, women, children, & families  by  providing education in the community on how to identify, prevent, and intervene in domestic abuse situations . To learn more: visit
www.dipfoundation.org
The following donations are needed:
Nearly New Shoes
Sweaters
Coats
Blankets
Hygiene products
Household & Cleaning Items
Nonperishable Food Items (New)
Toys
Cell Phones (New & Used)
Gift Cards

Imagine the families you can help with your donations. Let's be loyal to the Golden Rule "Do unto toothers as you would have them do unto you," and drop off your donations at the following locations: or call for donation pickups.
(D.I.P. Foundation Booth)  Norwood Flea Market—5301 Norwood Ave
Church's Chicken—5870 Normandy Blvd.
Wing King Café—4330 Brentwood Ave.
Athlete's Foot—5920 Normandy Blvd.
Athlete's Foot—6024 Merrill Road
For more information, sponsorship, or volunteering, please calls (904) 438-4347
Give the gift of generosity to local, needy families through your donations today!
Categories: awareness, campaign 2014, domestic violence, free clothing, holiday photos, Jacksonville community services
/