D.I.P. Outreach Ministry- Violence & Hunger Prevention
Divine Intervention & Prevention
OUTREACH MINISTRY OF H.E.L.P.
The D.I.P. Foundation is gearing up for their 7th Annual Heal A Heart Food Clothing & Toy Giveaway December 23rd at 3Pm. This outreach  event is one that sought out due to the joy it brings to the children in the community year after year. Heal A Heart provides non perishable food, clothing. shoes, hygiene items, and we dare not to mention toys to children in attendance ages 1-12 years of age. The organization makes this possible through the generous contributions of sponsors corporate and individuals who share the same passion to Heal A Heart  and spread love during the holiday season. The event will be held at DIP Foundation Outreach Ministry 2078 Cassat Ave Jacksonville, FL 32210. Donations of every kind are appreciated. Checkout the video from last year it was an amazing celebration.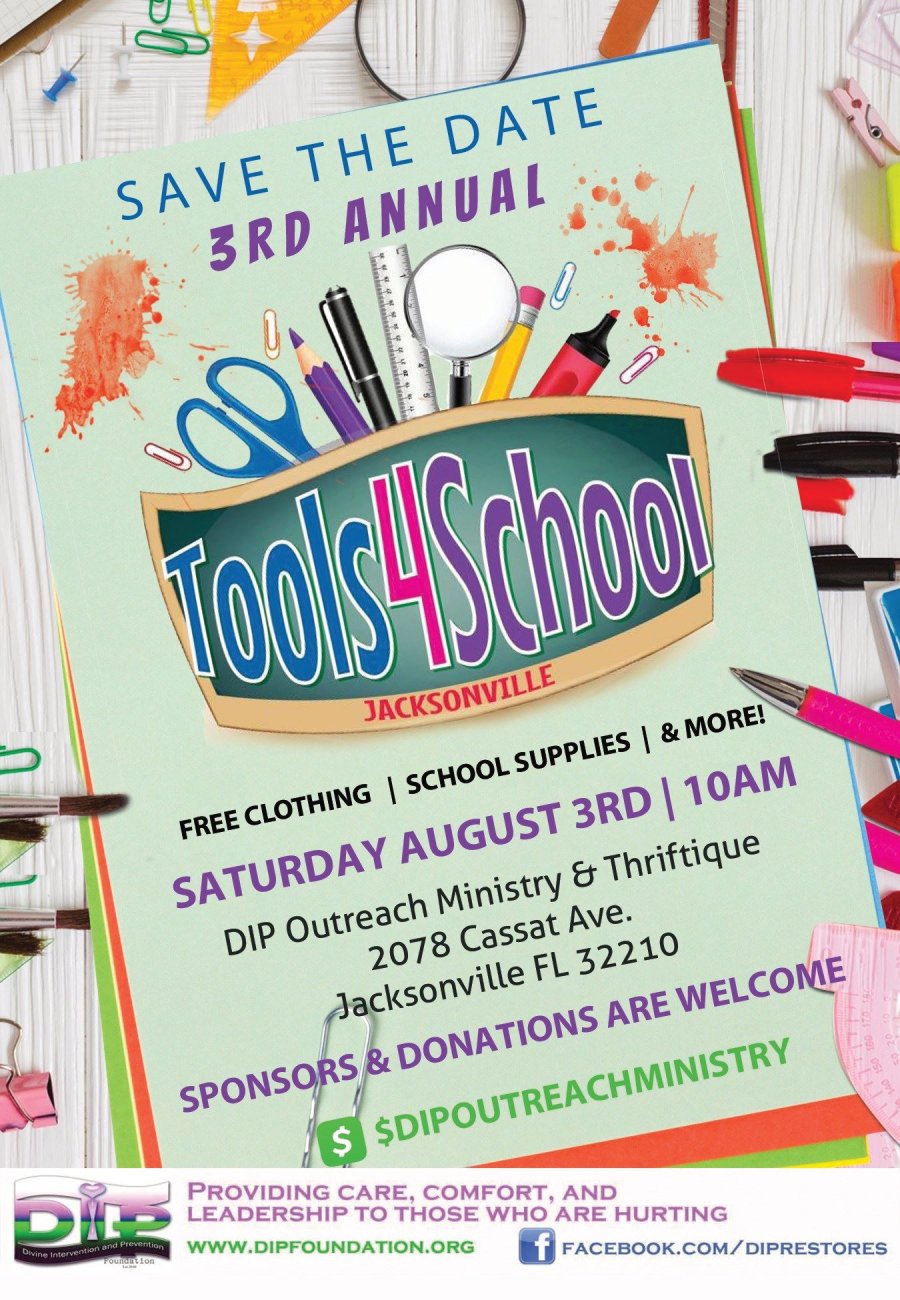 Summer time is here, although kids are out of school the summer vacation will end rather soon, it will be time to return to school in a few short weeks. DIP understands the importance of preparing for less fortunate youth to return to school for the 2019-2020 school year with full of pride and dignity. By collecting new and gently used clothing, school supplies, under garments, socks, and other necessities. DIP has put hundreds of smiles on kids faces. Shopping for back to school items can be expensive , particularly if parents have more than one student. With the help of  community supporters DIP aims to help approximately two hundred kids with clothing such as: socks, shoes, jeans, shirts, skirts (for girls), backpacks, and school supplies. Donations of these items are now being collected and can be dropped off to DIP Outreach & Thiftique located  2078 Cassat Avenue Jacksonville, FL or by making a donation online at www.Dipfoundation.org Corporate and individual sponsors are welcome to support this cause. 
D.I.P. Foundation is a 501 c3 organization that raises awareness and funds to fight against domestic violence & hunger in the local communities in Jacksonville, FL. The organization accepts donations year round of clothing, toys, school supplies, furniture, and real-estate to assist in furthering their mission.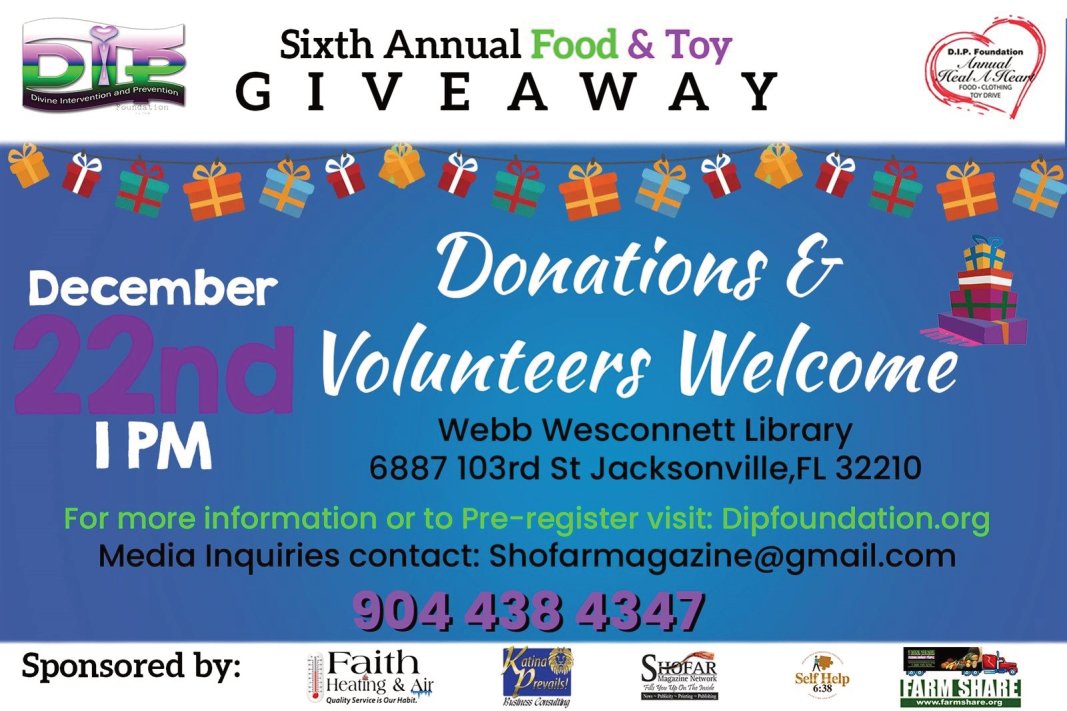 DIP Outreach Ministry is gearing up for the 6th Annual #HealAHeart Giveaway to be held on December 22, 2018 @ Webb Wesconnett Library. The community support is welcomed to make this event a success. In the previous years DIP has provided over 2,000 families with items such as food for their pantry, new and gently used clothing, various types toys for ages 2-12, bikes for children that have never owned a bike,  handbags and accessories for teenage girls that desire to look the part for their age group. 
The population we serve are families who have approximately 3-10 children and do not have the resources to provide for these  precious children needs or wants. The holiday season is just one of the times out the year that we assist with items mentioned above. Corporations, small groups, churches, social clubs, and individuals are encouraged to come along side of us to help the families in need that will attend Heal A heart this year.  Donations are tax deductible and can be made securely on our website www. Dipfoundation.org ; Cash App: $DIPOUTREACH ; or you can purchase a toy and drop it off  to DIP Outreach Ministry or The Webb Wesconnett Library. For more information email :
[email protected]
or call (904) 438-4347
/