D.I.P. Outreach Ministry- Violence & Hunger Prevention
Divine Intervention & Prevention
OUTREACH MINISTRY OF H.E.L.P.
The D.I.P. Foundation is gearing up for their 7th Annual Heal A Heart Food Clothing & Toy Giveaway December 23rd at 3Pm. This outreach  event is one that sought out due to the joy it brings to the children in the community year after year. Heal A Heart provides non perishable food, clothing. shoes, hygiene items, and we dare not to mention toys to children in attendance ages 1-12 years of age. The organization makes this possible through the generous contributions of sponsors corporate and individuals who share the same passion to Heal A Heart  and spread love during the holiday season. The event will be held at DIP Foundation Outreach Ministry 2078 Cassat Ave Jacksonville, FL 32210. Donations of every kind are appreciated. Checkout the video from last year it was an amazing celebration. 
The Divine Intervention & Prevention also know as (DIP) an outreach ministry for the prevention of domestic violence/abuse & hunger who has helped over 2,500 families in need is hosting the II Annual Tools 4 School Supply & Clothing Giveaway to lend a helping hand to students ages 4-18 that are in need. The event will be held at D.I.P. Outreach 2078 Cassat Ave Jacksonville, FL 32210 on Saturday August 4th @ 10am.
The average cost for back to school supplies and clothing is approximately $1500 according to NBC news, that is just as much as the average mortgage payment for many individuals. According to NCCP.org children make up 34 percent of people in poverty. Most low- income families have to look to the government for assistance, food, clothing, and other necessities such as; hygiene items and school supplies that are needed for children; many times this issue is not addressed on a regular basis or plaintively at all. No child wants to go to school without the proper clothing, shoes, or school supplies. The less fortunate seem to be one of the first to be bullied as a result of  this particular lack. The community can support Tools 4 School Jax by donating gently used clothing, shoes, handbags, backpacks, costume jewelry, personal care items, new socks, & underwear, for all ages. For a detailed list visit
www.facebook.com/diprestores
 or call (904) 438-4347.
DIP invigorates community supporters to do a good deed by making a contribution to DIP Outreach by visiting
www.Dipfoundation.org
website or simply Cash app @Dipfoundation.Your contribution will help to motivate both the parents and their children who are in need, whereby letting them know that they are not alone.  Your donation will also help the youth mentally by boosting their overall self esteem. "When you look good, you feel good. Confidence with what you're wearing is very important. If you feel good, you will always perform your best without worrying about anything- Maria Sharapova."  Here is an opportunity to help with giving  over 300 students the supplies they need for a successful school year as, these children cannot reach their full potential without adequate support.
In kind donations can be dropped off to one of the following locations :
D.I.P Outreach Ministry  2078 Cassat Ave. Jax, Fl 32210
Elegant Beauty Supplies- 6139 103Rd Jax, Fl 32210
State Farm 12620 Beach Blvd #8 Jax, Fl 32246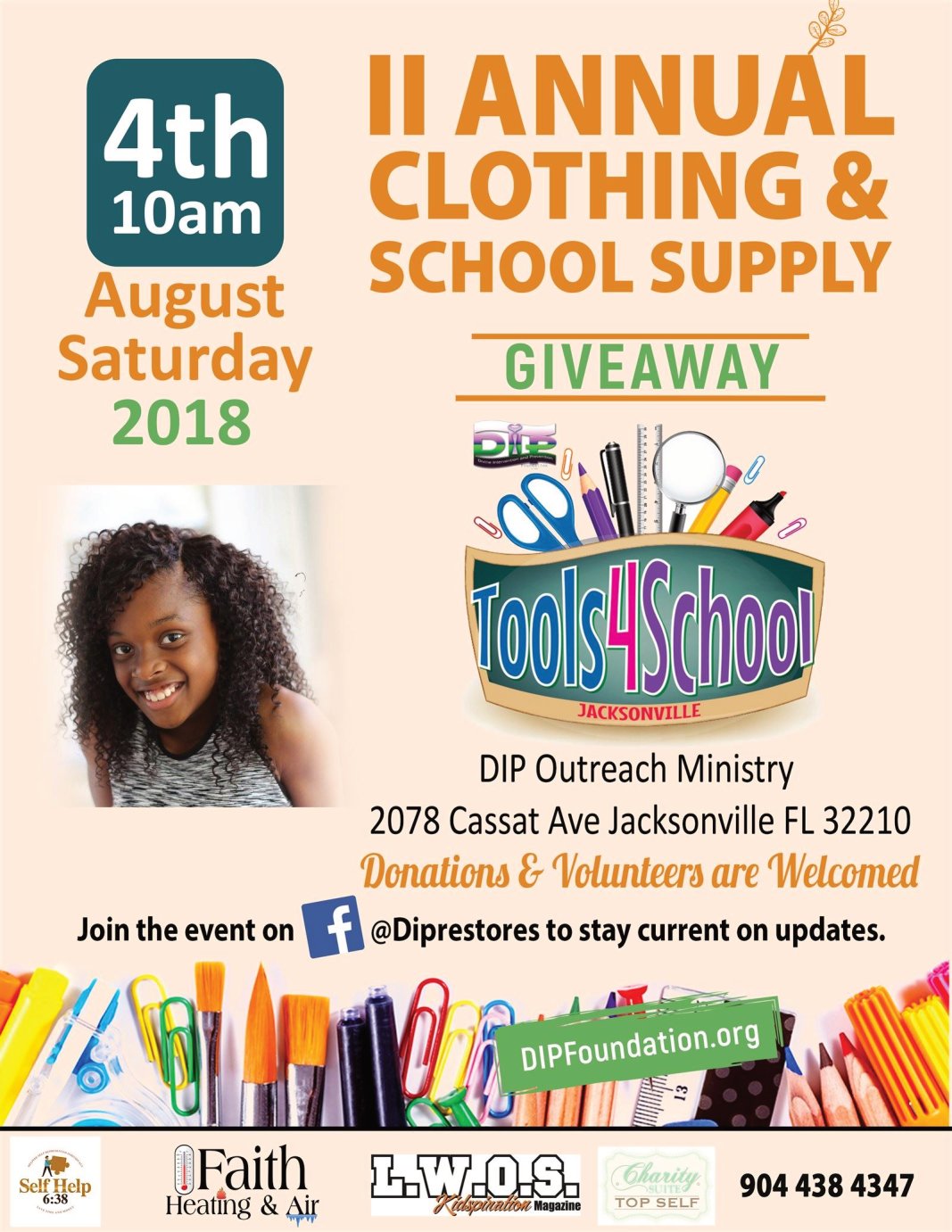 /