D.I.P. Outreach Ministry- Violence & Hunger Prevention
Divine Intervention & Prevention
OUTREACH MINISTRY OF H.E.L.P.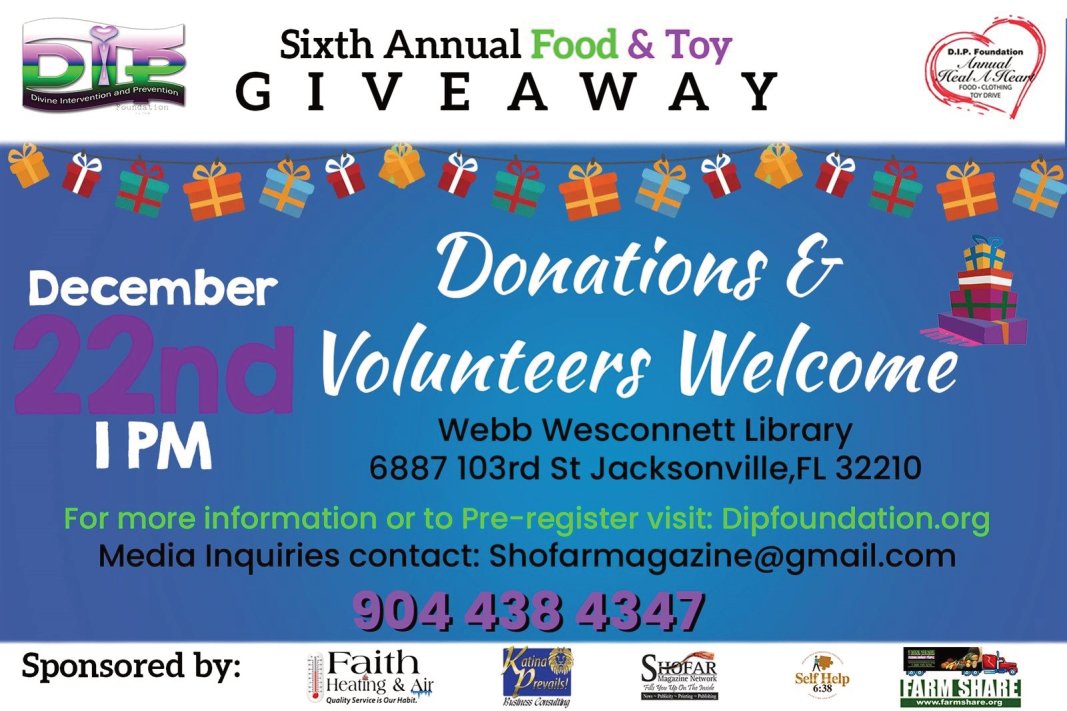 DIP Outreach Ministry is gearing up for the 6th Annual #HealAHeart Giveaway to be held on December 22, 2018 @ Webb Wesconnett Library. The community support is welcomed to make this event a success. In the previous years DIP has provided over 2,000 families with items such as food for their pantry, new and gently used clothing, various types toys for ages 2-12, bikes for children that have never owned a bike,  handbags and accessories for teenage girls that desire to look the part for their age group. 
The population we serve are families who have approximately 3-10 children and do not have the resources to provide for these  precious children needs or wants. The holiday season is just one of the times out the year that we assist with items mentioned above. Corporations, small groups, churches, social clubs, and individuals are encouraged to come along side of us to help the families in need that will attend Heal A heart this year.  Donations are tax deductible and can be made securely on our website www. Dipfoundation.org ; Cash App: $DIPOUTREACH ; or you can purchase a toy and drop it off  to DIP Outreach Ministry or The Webb Wesconnett Library. For more information email :
[email protected]
or call (904) 438-4347
Violence continues to escalate in our cities and nation, unfortunately there seems to be a massive separation in our communities between those who are focusing on solutions to empower those who are mourning and those who are blaming each other, societal issues, and legislation for allowing violent tragedies to occur. Meanwhile, parents and family members who have lost a loved one are looking for ways to cope and mend their shattered hearts. What if our focus was shifted from accusing our fellows to bridging the "blaming gap" with Love? Dr. Martin Luther King boldly proclaimed, "Darkness cannot drive out darkness; only light can do that. Hate cannot drive out hate; only love can do that." We need the power of love now more than ever.
Jacksonville in particular has lost several winsome and talented children to gun and domestic violence, Connor Mickens is one of those children. Although it has been five months since he was shot in the head the pain still lingers; blaming those who should have, or could have done this or that will not bring precious Connor back. Our factions can no longer play the "blame game," therefore we ought to refocus and eradicate brute force through unceasing violence prevention themes, prayer, community outreach events, and advocacy. Our core objective as a community should be to stand united in love. There are three ways dignitaries and community proponents can encourage those who are still grieving: through common acts of love, kindness, and commitment to raise awareness about perpetrators who use violence as a panacea; that is destroying communities filled with innocent children who have been shot, killed, beaten and raped to death.
On Good Friday March 30th, at 12PM  D.I.P. Outreach Ministry is inviting community members, leaders, and media outlets to the balloon release ceremony in memory Connor Mickens and other youth in our city who have loss their life to barbarity. Afterwards kids will be served lunch and can participate in Easter activities such as egg decorating and hula hoop contest, games, raffles, face painting, and story time. RSVP  The goal of this event is to raise awareness and funds to continue the organization's mission of  violence prevention and to pray as a community. Food and drinks will be available for donations.
About D.I.P. Foundation Outreach is a non for profit organization that educates Children, families, and  communities on domestic prevention. DIP also provides food, clothing, and other necessities to impoverished and abused children and families. The organization has helped over 2500 families through their Heal A Heart Outreach. For more information visit
www.Dipfoundation.org
 or call
(904) 438-4347
Donations and Volunteers are welcome.
Event will be held at  DIP Outreach & Donation Center  2078 Cassat Ave. Jacksonville, FL 32210 ( between Blanding & San Juan)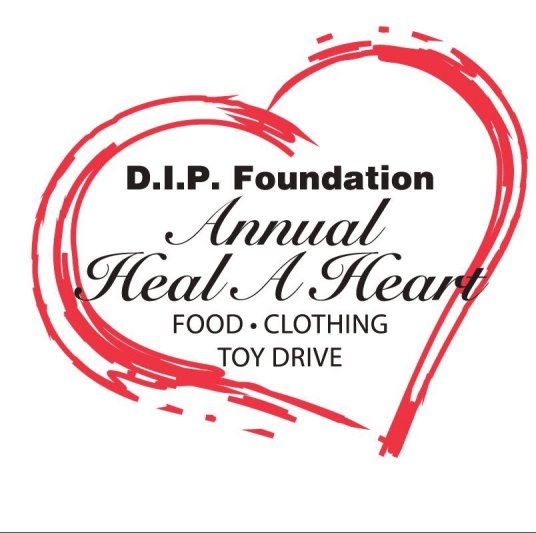 On Thursday Dec.21, 2017 families in need gathered by the hundreds to receive items donated to the D.I.P. Foundation for the less fortunate. Items such as: blankets, socks, body wash, mouthwash, toothpaste, clothing all sizes, and toys were distributed to over 250 individuals. The items were donated by various community supporters, the event sponsors were  L.W.O.S Magazine, The K.L.M. Corp, Faith Heating & Air. 
Over 25 bikes were given out to boys and girls yielding lots of smiles; as this was priceless.  The Holidays can bring stress upon those who are in need of the bare living necessities Heal A Heart Food Clothing & Toy Giveaway purpose is to ease some of this stress. This is the organization's 5th year hosting the event and hopes to expand its mission to help even more families next year with the communities help. 
Donations are accepted year round for Heal A Heart. A special thanks to Jeremiah Jackson with Paradise Dreamers and Florida Blue. To learn more about D.I.P. Foundation visit: www. Dipfoundation.org or Call (904) 438-4347
December​ ​is​ ​a​ ​very​ ​busy​ ​month​ ​for​ ​many,​ ​not​ ​everyone​ ​has​ ​the​ ​same​ ​experiences​ ​throughout​ ​the holidays.​ ​This​ ​time​ ​of​ ​the​ ​year​ ​can​ ​be​ ​difficult​ ​for​ ​the​ ​less​ ​fortunate​ ​children​ ​and​ ​families​ ​in Jacksonville's​ ​communities.​ ​Over​ ​90%​ ​of​ ​the​ ​population​ ​served​ ​lives​ ​at​ ​or​ ​below​ ​the​ ​line​ ​of​ ​poverty. The​ ​Divine​ ​Intervention​ ​&​ ​Prevention​ ​Foundation​ ​believes​ ​that​ ​all​ ​children​ ​should​ ​experience​ ​the​ ​joy​ ​and excitement​ ​of​ ​the​ ​Christmas​ ​holiday.​ ​(D.I.P.)​ ​has​ ​teamed​ ​up​ ​with​ ​corporate​ ​and​ ​faith​ ​partners,​ ​individuals, and​ ​other​ ​community​ ​organizations​ ​to​ ​host​ ​the​ ​​5th​ ​Annual​ ​Heal​ ​A​ ​Heart​ ​Food,​ ​Clothing,​ ​&​ ​Toy​ ​Drive On​ ​​Thursday​ ​Dec.​ ​21st​ ​@​ ​10am​ ​​items​ ​such​ ​as​ ​personal​ ​hygiene,​ ​toiletries,​ ​blankets,​ ​shoes,​ ​clothing,​ ​and toys​ ​will​ ​distributed​ ​to​ ​the​ ​underprivileged​ ​children​ ​and​ ​families​ ​who​ ​attend​ ​on​ ​a​ ​first​ ​come​ ​first​ ​serve basis​ ​for​ ​as​ ​long​ ​as​ ​the​ ​supplies​ ​last.
​ ​Help​ ​us​ ​make​ ​wishes​ ​come​ ​true​ ​by​ ​donating​ ​to​ ​​#HEALAHEART You​ ​can​ ​show​ ​your​ ​giving​ ​spirit​ ​by​ ​dropping​ ​off​ ​new​ ​and​ ​gently​ ​used​ ​(non​ ​violent)​ ​toys​ ​to​ ​benefit​ ​a​ ​boy or​ ​girl​ ​today​ ​to​ ​​D.I.P.​ ​Foundation​ ​Outreach​ ​Ministry​ ​2078​ ​Cassat​ ​Ave.​ ​Jacksonville,​ ​FL​ ​32210 
About​ ​D.I.P.​ ​Foundation​ ​:​​ ​a​ ​not​ ​for​ ​profit​ ​organization​ ​whose​ ​core​ ​objective​ ​is​ ​to​ ​educate​ ​and​ ​empower families​ ​to​ ​live​ ​healthy,​ ​holistic​ ​lifestyles​ ​without​ ​the​ ​use​ ​of​ ​violence​ ​as​ ​a​ ​recourse​ ​to​ ​solve​ ​relationship, personal,​ ​and​ ​financial​ ​plights.​ ​(D.I.P.)​ ​has​ ​helped​ ​over​ ​1200​ ​families​ ​in​ ​their​ ​time​ ​of​ ​need​ ​through​ ​the Healing​ ​Hearts​ ​Outreach​ ​Ministry.​ ​​ ​#HEALAHEART​ ​was​ ​designed​ ​to​ ​help​ ​families​ ​with​ ​their​ ​vacuous necessities​ ​such​ ​as​ ​food,​ ​clothing,​ ​blankets,​ ​coats,​ ​shoes,​ ​personal​ ​hygiene-toiletries,​ ​and​ ​toys​ ​for​ ​children during​ ​the​ ​holiday​ ​season.​ ​To​ ​learn​ ​more​ ​about​ ​the​ ​organization,​ ​​ ​you​ ​can​ ​visit​ ​​www.Dipfoundation.org or​ ​call​ ​(904)​ ​438-4347​ ​to​ ​schedule​ ​your​ ​donation​ ​to​ ​be​ ​picked​ ​up. 
Five​ ​Ways​ ​to​ ​Support​ ​HEAL​ ​A​ ​HEART  Purchase​ ​items​ ​from​ ​one​ ​of​ ​our​ ​wish​ ​lists​ ​(​ ​Bikes,​ ​Dolls,​ ​Basketballs,​ ​Footballs,​ ​Gift​ ​Cards,​ ​Etc,.) Make​ ​a​ ​monetary​ ​donation​ ​of​ ​any​ ​amount​ ​via​ ​D.I.P.​ ​secure​ ​website If​ ​you​ ​are​ ​an​ ​out​ ​of​ ​state​ ​donor-​ ​ship​ ​toys​ ​to​ ​D.I.P.​ ​7643​ ​Gate​ ​Parkway​ ​#104-160​ ​Jax,​ ​FL​ ​32256 Encourage​ ​your​ ​friends,​ ​family,​ ​co-workers,​ ​local​ ​businesses,​ ​and​ ​social​ ​clubs​ ​to​ ​get​ ​involved.  Share​ ​the​ ​event​ ​flyer​ ​on​ ​your​ ​social​ ​networks,​ ​join​ ​the​ ​event​ ​​www.facebook.com/Diprestores 
Together​ ​we​ ​can​ ​work​ ​together​ ​to​ ​Heal​ ​so​ ​many​ ​hearts.​ ​Your​ ​generosity​ ​ensures​ ​that​ ​they​ ​feel​ ​special​ ​and loved​ ​during​ ​this​ ​holiday​ ​season.​ ​​Donations​ ​are​ ​tax-deductible​ ​participants​ ​and​ ​volunteers​ ​can​ ​register online​ ​by​ ​visiting​ ​​ ​​www.Dipfoundation.org​​ ​​ ​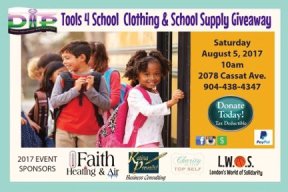 According to the National Retail Federation, the average family spends almost $700 on children's clothing, electronics, and back to school supplies each year. Back to school time can be a burden on many low income families- especially to those who have to provide clothing for more than one child. Wouldn't it be great if back to school shopping was easy and cheap? Of course it would.
The recent budget cuts in education tends to take a big toll in the classroom, not only are there more students cramming into already crowded classes, there are fewer supplies to go around. With limited supplies available some teachers and other parents end up spending their own money to buy pencils, pens, notebooks, and textbooks for students whose families can't afford them.
 The Divine Intervention & Prevention Foundation also know as  (D.I.P.)  is a non-profit organization whose core objective is to educate and empower families to live healthy, holistic lives without the use of violence as a recourse to solve relationship, personal, and financial plights is seeking donations to help kids ages 5-17 gear up for school.
(D.I.P.)
has helped over 1,500 families through the Healing Hearts Jax that has lead to the organization's program expansion and the kickoff of the
#Tools4SchoolJax
clothing  & school supply giveaway to be held on
Saturday August 5 at 10am.
To learn more about the organization visit
www.Dipfoundation.org
Tools 4 School Jax supports underprivileged students in need with back to school supplies & clothing to make sure that these kids are excited about school and have everything they need to succeed.  (D.I.P.) hopes that you will choose to partner in helping children in Duval County return to school with the supplies they need by bringing donations to: D.I.P. Outreach Charity Suite 2078 Cassat Avenue Jacksonville, FL 32210
The Tools 4 School Jax fundraiser really can go along way in making the 2017-2018 school year a happier one for teachers and students alike. Organizations, school groups, businesses, looking to host a drive for #
Tools4SchoolJax
 or schedule a donation pickup should contact Angie 904 438- 4347 or email 
[email protected]
/