D.I.P. Outreach Ministry- Violence & Hunger Prevention
Divine Intervention & Prevention
OUTREACH MINISTRY OF H.E.L.P.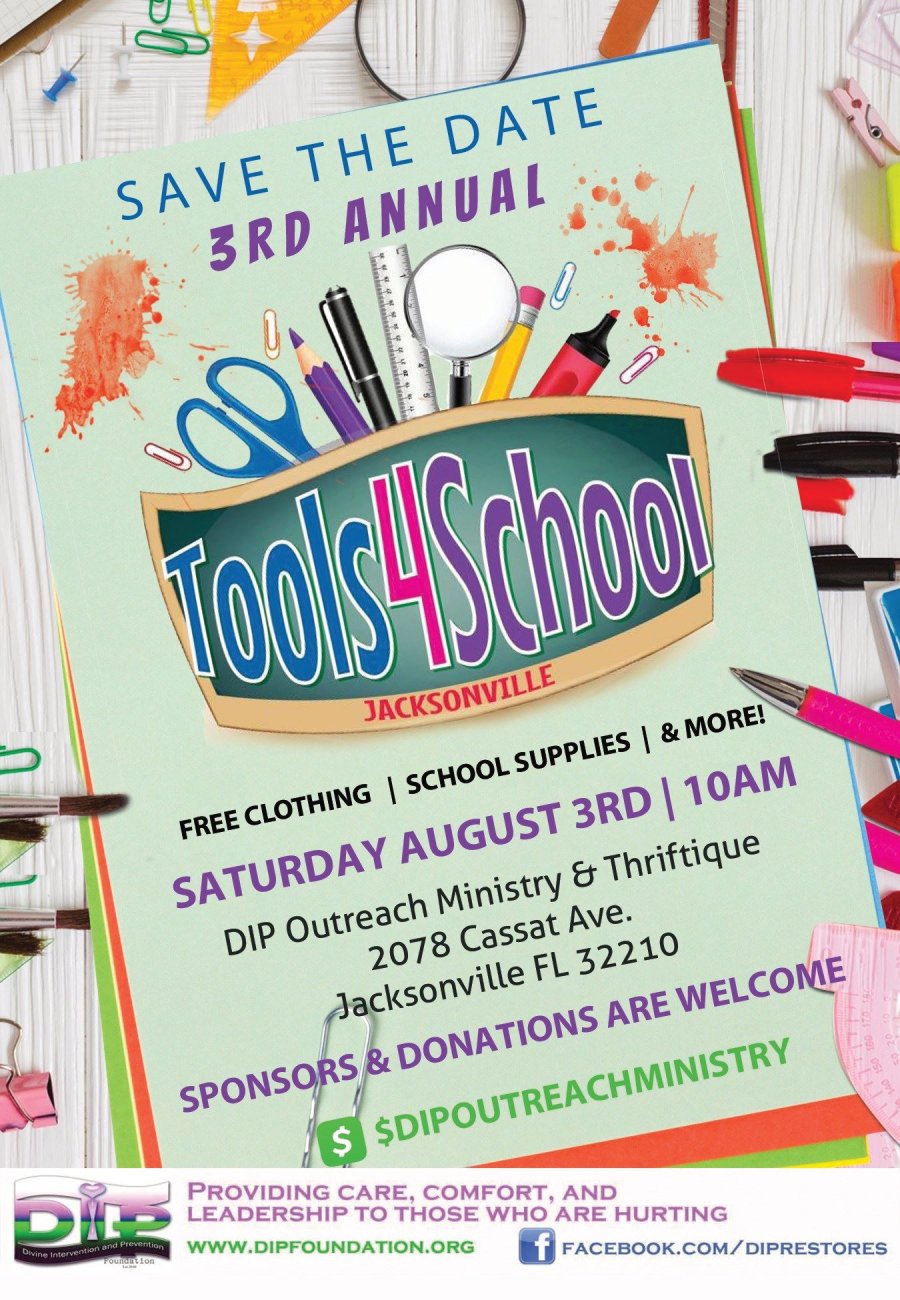 Summer time is here, although kids are out of school the summer vacation will end rather soon, it will be time to return to school in a few short weeks. DIP understands the importance of preparing for less fortunate youth to return to school for the 2019-2020 school year with full of pride and dignity. By collecting new and gently used clothing, school supplies, under garments, socks, and other necessities. DIP has put hundreds of smiles on kids faces. Shopping for back to school items can be expensive , particularly if parents have more than one student. With the help of  community supporters DIP aims to help approximately two hundred kids with clothing such as: socks, shoes, jeans, shirts, skirts (for girls), backpacks, and school supplies. Donations of these items are now being collected and can be dropped off to DIP Outreach & Thiftique located  2078 Cassat Avenue Jacksonville, FL or by making a donation online at www.Dipfoundation.org Corporate and individual sponsors are welcome to support this cause. 
D.I.P. Foundation is a 501 c3 organization that raises awareness and funds to fight against domestic violence & hunger in the local communities in Jacksonville, FL. The organization accepts donations year round of clothing, toys, school supplies, furniture, and real-estate to assist in furthering their mission.   
The Divine Intervention & Prevention also know as (DIP) an outreach ministry for the prevention of domestic violence/abuse & hunger who has helped over 2,500 families in need is hosting the II Annual Tools 4 School Supply & Clothing Giveaway to lend a helping hand to students ages 4-18 that are in need. The event will be held at D.I.P. Outreach 2078 Cassat Ave Jacksonville, FL 32210 on Saturday August 4th @ 10am.
The average cost for back to school supplies and clothing is approximately $1500 according to NBC news, that is just as much as the average mortgage payment for many individuals. According to NCCP.org children make up 34 percent of people in poverty. Most low- income families have to look to the government for assistance, food, clothing, and other necessities such as; hygiene items and school supplies that are needed for children; many times this issue is not addressed on a regular basis or plaintively at all. No child wants to go to school without the proper clothing, shoes, or school supplies. The less fortunate seem to be one of the first to be bullied as a result of  this particular lack. The community can support Tools 4 School Jax by donating gently used clothing, shoes, handbags, backpacks, costume jewelry, personal care items, new socks, & underwear, for all ages. For a detailed list visit
www.facebook.com/diprestores
 or call (904) 438-4347.
DIP invigorates community supporters to do a good deed by making a contribution to DIP Outreach by visiting
www.Dipfoundation.org
website or simply Cash app @Dipfoundation.Your contribution will help to motivate both the parents and their children who are in need, whereby letting them know that they are not alone.  Your donation will also help the youth mentally by boosting their overall self esteem. "When you look good, you feel good. Confidence with what you're wearing is very important. If you feel good, you will always perform your best without worrying about anything- Maria Sharapova."  Here is an opportunity to help with giving  over 300 students the supplies they need for a successful school year as, these children cannot reach their full potential without adequate support.
In kind donations can be dropped off to one of the following locations :
D.I.P Outreach Ministry  2078 Cassat Ave. Jax, Fl 32210
Elegant Beauty Supplies- 6139 103Rd Jax, Fl 32210
State Farm 12620 Beach Blvd #8 Jax, Fl 32246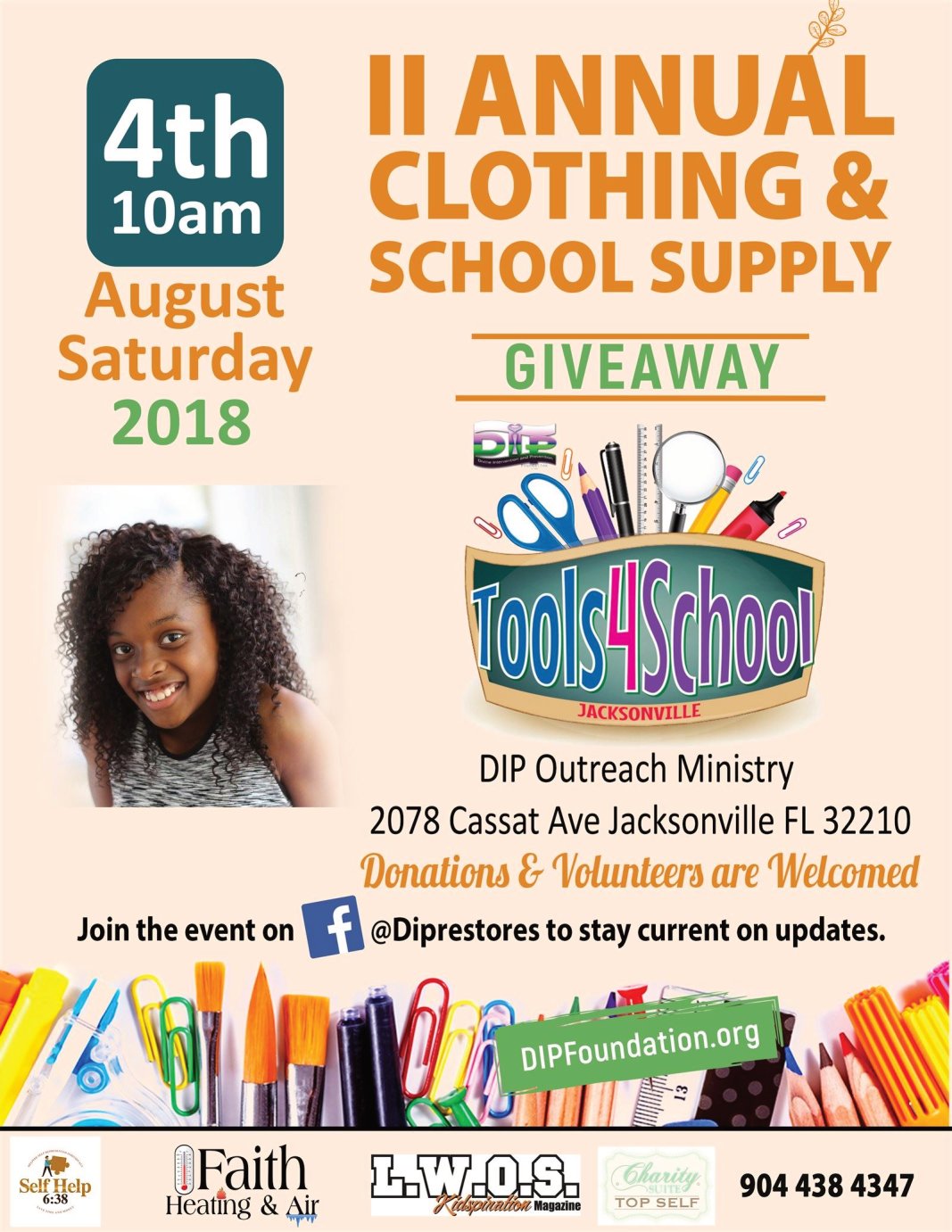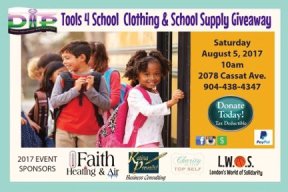 According to the National Retail Federation, the average family spends almost $700 on children's clothing, electronics, and back to school supplies each year. Back to school time can be a burden on many low income families- especially to those who have to provide clothing for more than one child. Wouldn't it be great if back to school shopping was easy and cheap? Of course it would.




The recent budget cuts in education tends to take a big toll in the classroom, not only are there more students cramming into already crowded classes, there are fewer supplies to go around. With limited supplies available some teachers and other parents end up spending their own money to buy pencils, pens, notebooks, and textbooks for students whose families can't afford them.







 The Divine Intervention & Prevention Foundation also know as  (D.I.P.)  is a non-profit organization whose core objective is to educate and empower families to live healthy, holistic lives without the use of violence as a recourse to solve relationship, personal, and financial plights is seeking donations to help kids ages 5-17 gear up for school.




 (D.I.P.)

has helped over 1,500 families through the Healing Hearts Jax that has lead to the organization's program expansion and the kickoff of the

#Tools4SchoolJax

clothing  & school supply giveaway to be held on

Saturday August 5 at 10am.

To learn more about the organization visit

www.Dipfoundation.org




Tools 4 School Jax supports underprivileged students in need with back to school supplies & clothing to make sure that these kids are excited about school and have everything they need to succeed.  (D.I.P.) hopes that you will choose to partner in helping children in Duval County return to school with the supplies they need by bringing donations to: D.I.P. Outreach Charity Suite 2078 Cassat Avenue Jacksonville, FL 32210




The Tools 4 School Jax fundraiser really can go along way in making the 2017-2018 school year a happier one for teachers and students alike. Organizations, school groups, businesses, looking to host a drive for #

Tools4SchoolJax

 or schedule a donation pickup should contact Angie 904 438- 4347 or email 

[email protected] 




 




0

/