D.I.P. Outreach Ministry- Violence & Hunger Prevention
Divine Intervention & Prevention
OUTREACH MINISTRY OF H.E.L.P.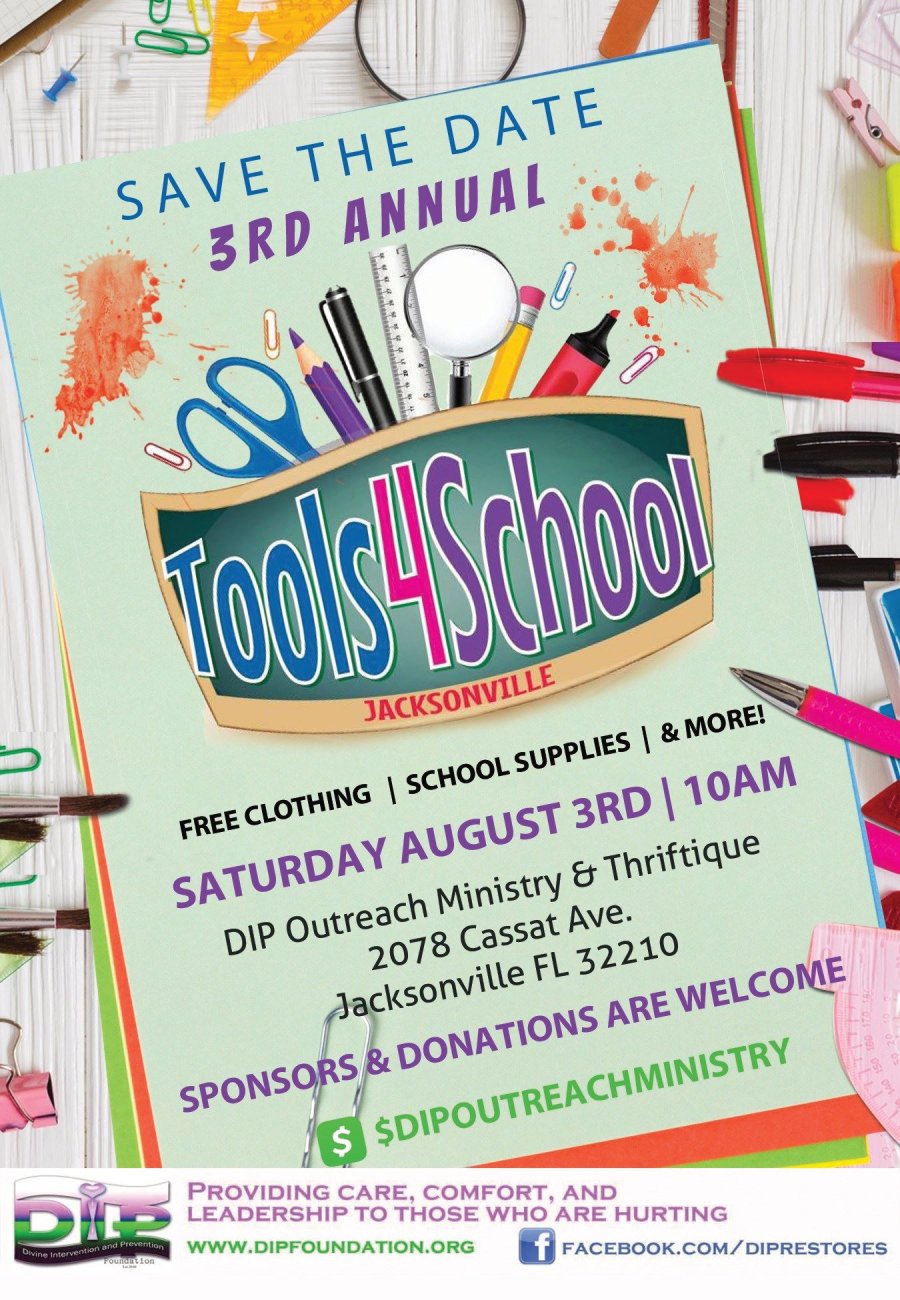 Summer time is here, although kids are out of school the summer vacation will end rather soon, it will be time to return to school in a few short weeks. DIP understands the importance of preparing for less fortunate youth to return to school for the 2019-2020 school year with full of pride and dignity. By collecting new and gently used clothing, school supplies, under garments, socks, and other necessities. DIP has put hundreds of smiles on kids faces. Shopping for back to school items can be expensive , particularly if parents have more than one student. With the help of  community supporters DIP aims to help approximately two hundred kids with clothing such as: socks, shoes, jeans, shirts, skirts (for girls), backpacks, and school supplies. Donations of these items are now being collected and can be dropped off to DIP Outreach & Thiftique located  2078 Cassat Avenue Jacksonville, FL or by making a donation online at www.Dipfoundation.org Corporate and individual sponsors are welcome to support this cause. 
D.I.P. Foundation is a 501 c3 organization that raises awareness and funds to fight against domestic violence & hunger in the local communities in Jacksonville, FL. The organization accepts donations year round of clothing, toys, school supplies, furniture, and real-estate to assist in furthering their mission.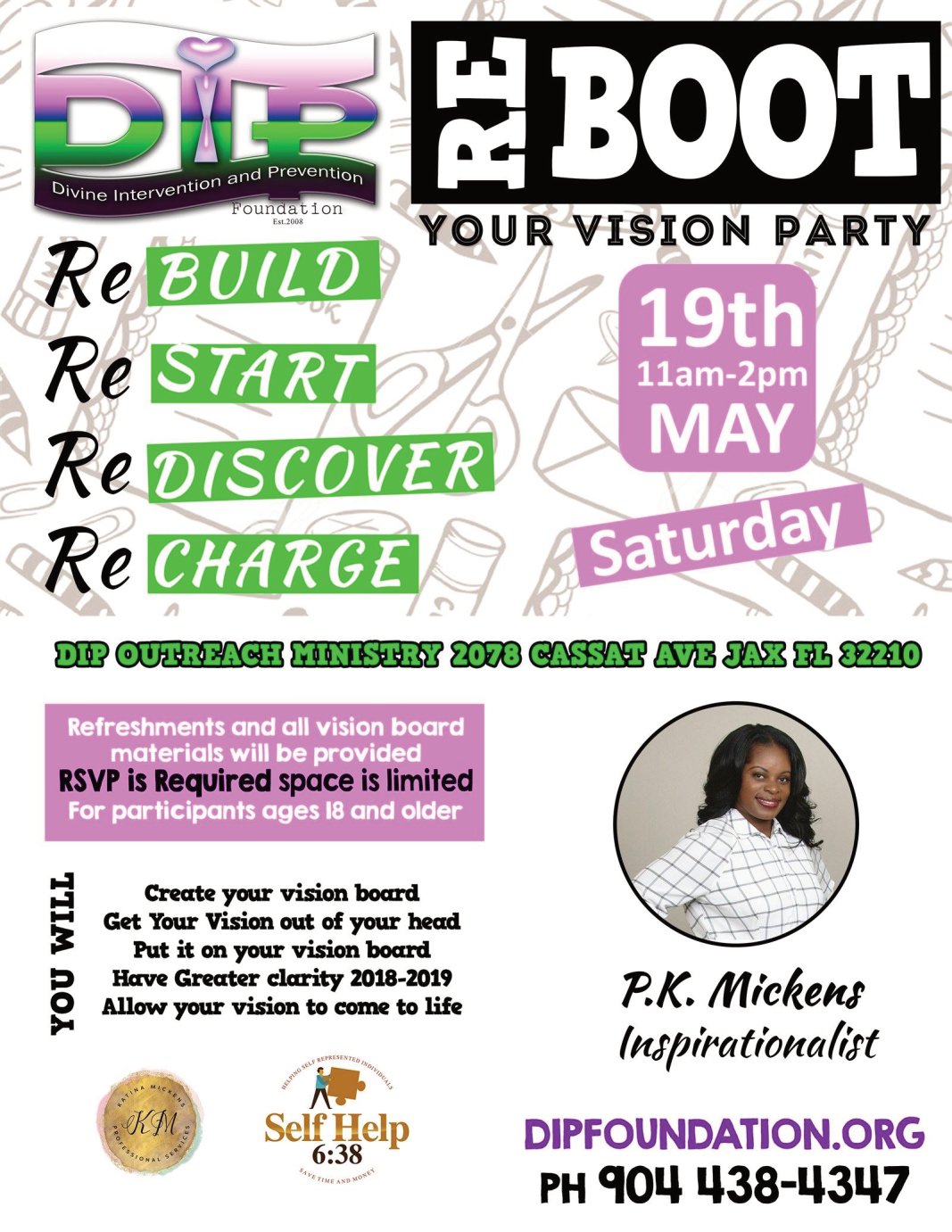 As we come to the close of the first quarter in the year many have yet to accomplish goal set in the beginning of the year, while others have already set aside the goals set. Their reasons can vary from busyness, low-self esteem, fear, or perhaps a loss of hope due to their current circumstances. The Reboot your vision campaign is set to launch on May 19th to inspire individuals to rebuild, restart, rediscover, and recharge. Attendees will do this by creating their own vision board using a collage of inspiring pictures, motivating quotes, personal affirmations, and powerful words from magazines and print mediums. To that collage you can add personal photos,decorative lettering, and various embellishments to decorative lettering, and various embellishments to personalize their boards. Individuals will get their visions out of their head and have a greater clarity for the rest of 2018 & 2019. This is a great way to network and to bask in an atmosphere of positivism. Refreshments and vision board materials will be provided. However, RSVP is required via email to
[email protected]
Media inquiries or to make a monetary, food, or in kind donation call (904) 438-4347 for information visit www.dipfoundation.org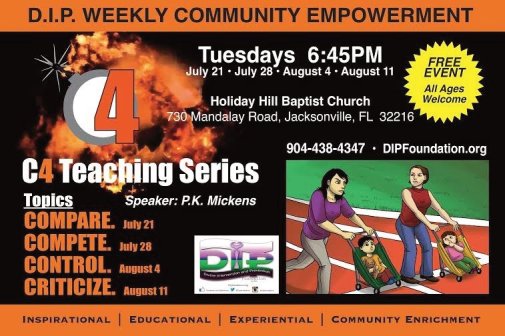 Empowerment Tuesdays is a weekly inspirational, experiential, educational meeting for the community all ages. It gives attendees an opportunity to worship, fellowship, evaluate themselves based on the message that given.  D.I.P. is an educational Outreach ministry for the prevention of domestic violence, our messages for the empowerment series are bible based and point out how everyone is subject to becoming an abuser or being abused. D.I.P. believes that divine healing takes place when we get to the root that is causing the fruit of bad behavior. This is not a traditional meeting about domestic violence and abuse simply because those who are abusing or being abused would not attend unless they were court ordered. However, the power of the Holy Spirit has and will continue to convict attendees to see that there is a problem and Jesus is the only One to solve it.
 We simply have to meet people where they are to disciple them through the word of God so they may apply it in every aspect of their life.
/