D.I.P. Outreach Ministry- Violence & Hunger Prevention
Divine Intervention & Prevention
OUTREACH MINISTRY OF H.E.L.P.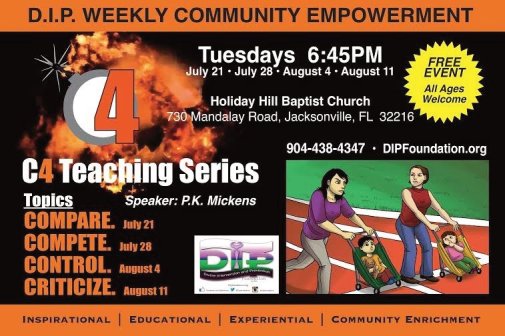 Empowerment Tuesdays is a weekly inspirational, experiential, educational meeting for the community all ages. It gives attendees an opportunity to worship, fellowship, evaluate themselves based on the message that given.  D.I.P. is an educational Outreach ministry for the prevention of domestic violence, our messages for the empowerment series are bible based and point out how everyone is subject to becoming an abuser or being abused. D.I.P. believes that divine healing takes place when we get to the root that is causing the fruit of bad behavior. This is not a traditional meeting about domestic violence and abuse simply because those who are abusing or being abused would not attend unless they were court ordered. However, the power of the Holy Spirit has and will continue to convict attendees to see that there is a problem and Jesus is the only One to solve it.
 We simply have to meet people where they are to disciple them through the word of God so they may apply it in every aspect of their life.
 On Tuesday June 30, D.I.P. Foundation & Shofar Magazine hosted its inaugural Youth Empowerment and Crime Prevention Fundraiser at the Holiday Hill Baptist Church.  Community members gathered to hear powerful messages from P.K. Mickens – (D.I.P.) Executive Director; Steven Bradley of the National Coalition against Domestic Violence; and Florida's District State Attorney Angela B. Corey.  WJXT Channel 4 News was onsite awaiting her arrival, Corey interviewed with the news station outside. Inside was a room full of supporters waiting to hear Corey's message to youth, and more importantly to take photos with the victim's safety ambassador.  
The event culminated with an overview of (D.I.P.) upcoming projects, the commencement date of (D.I.P.) twenty-six week Batter's Intervention Program
Road to Resilience
, and presentation from     P.K. Mickens on
"The importance of Character"
followed by (NCADV) Steven Bradley tips for social media safety. There were several surprises that night; Shofar Magazine unveiled its Blazing Summer Edition Cover, a triple feature to include:  Florida's State Attorney Angela B. Corey, National Recording Artist Jekalyn Carr, Pastor of The Sanctuary of Orange County and Oxygen's T.V. reality star Jay Haizip.                 Visit
www.Shofarmagazine.com
to view cover or subscribe to the magazine.
Select honorees received awards for their support of the organization's mission of violence prevention: Sam's Club, Channel 4 News, Pastor Albert Byrd, and Angela B. Corey. With an audience filled with community leaders and supporters the speakers provided valuable insight on internet safety, violence prevention, and character building. Both youth and adults left with violence prevention materials and (D.I.P.) signature hand towels as a reminder of the events theme "Your Knowledge is Your Power." (D.I.P) hopes to host more empowerment events in the near future to continue raising awareness and funds to fight against domestic violence.  For more info or to donate visit
www.Dipfoundation.org
                                                                                                                                      Corporate Sponsors: Walmart, Sams Club, Home Depot, Panera Bread, Chick Fil A, MAC, & Target
/