D.I.P. Outreach Ministry- Violence & Hunger Prevention
Divine Intervention & Prevention
OUTREACH MINISTRY OF H.E.L.P.
Everyday Life can have its way of blindsiding us with the latest uploads on Instagram, Facebook live notifications, and snapchat stories about the VMA's red carpet slayage, and the never-ending antics of the Kardashians on TMZ.  Meanwhile we give little or no attention to the less fortunate children and families in our communities that suffer from hunger and abuse.  
The Divine Intervention & Prevention Foundation aka (D.I.P.) a non-profit organization whose core objective is to educate and empower families to live healthy, holistic lives without the use of violence as a recourse to solve relationship, personal, and financial plights. (D.I.P.) has helped over 1,000 families in their time of need through the Healing Hearts outreach ministry. This annual outreach was designed to help families with their bare living necessities such as food, clothing, blankets, coats, shoes, personal hygiene -toiletries, and toys for children during the holiday season. To learn more about the organization, visit
www.Dipfoundation.org
or call 904 438-4347.
I am very excited to get this going for the children and families that will benefit says, executive director of the D.I.P. Foundation P.K. Mickens – "what a wonderful way to honor the spirit of the holidays by giving huge smiles to those who are hurting, hungry, in need of personal hygiene, shoes, and clothing. This year's donations will go a long way in helping over four families experiencing homelessness and poverty in Jacksonville, Florida metro area. It is truly more blessed for us to give than to receive" she says.
There are several ways that you can help DIP with its mission now through December 20become an Advocate: volunteer, organize a corporate or group benefit drive. Food, media, and financial sponsors are welcomed. Donation Drop-Sites are needed.
Pledge / Donate: Donations of non-perishable foods, personal hygiene & house household items, new & gently used toys are now being collected and can be dropped off to one of the donation drop sites.
 AMG Uptown Salon 525 W Bay St. Jax, FL 32202 ~ Dorothy Walbey Podiatry 2255 Dunn Ave.
Donations are tax-deductible. Items collected will be distributed on Thursday December 22 - 10AM at the Maceo Elks Lodge 712 West Duval St. Jacksonville, Florida 32202. Volunteers & recipients can register at
www.Dipfoundation.org
 by clicking the Heal A Heart tab to make a donation or for more information.
Jacksonville, FL- with the holiday season just around the corner, D.I.P. is accepting donations for its 3rd Annual Heal A Heart Food, Clothing, & Toy drive sponsored by Shofar Magazine & various local community organizations. For many of the children & families D.I.P. serves, the holidays are difficult. Some children maybe separated from their parents, others from their siblings. At least 90% come from families living below federal poverty level. All have experienced significant trauma that taints the warm holiday season. We invite you to make the holidays brighter for these children & families.  Join our Heal A Heart Food, Clothing, & Toy Drive!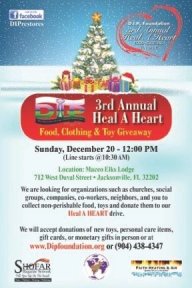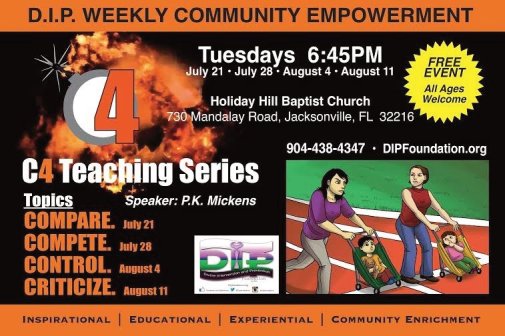 Empowerment Tuesdays is a weekly inspirational, experiential, educational meeting for the community all ages. It gives attendees an opportunity to worship, fellowship, evaluate themselves based on the message that given.  D.I.P. is an educational Outreach ministry for the prevention of domestic violence, our messages for the empowerment series are bible based and point out how everyone is subject to becoming an abuser or being abused. D.I.P. believes that divine healing takes place when we get to the root that is causing the fruit of bad behavior. This is not a traditional meeting about domestic violence and abuse simply because those who are abusing or being abused would not attend unless they were court ordered. However, the power of the Holy Spirit has and will continue to convict attendees to see that there is a problem and Jesus is the only One to solve it.
 We simply have to meet people where they are to disciple them through the word of God so they may apply it in every aspect of their life.
 On Tuesday June 30, D.I.P. Foundation & Shofar Magazine hosted its inaugural Youth Empowerment and Crime Prevention Fundraiser at the Holiday Hill Baptist Church.  Community members gathered to hear powerful messages from P.K. Mickens – (D.I.P.) Executive Director; Steven Bradley of the National Coalition against Domestic Violence; and Florida's District State Attorney Angela B. Corey.  WJXT Channel 4 News was onsite awaiting her arrival, Corey interviewed with the news station outside. Inside was a room full of supporters waiting to hear Corey's message to youth, and more importantly to take photos with the victim's safety ambassador.  
The event culminated with an overview of (D.I.P.) upcoming projects, the commencement date of (D.I.P.) twenty-six week Batter's Intervention Program
Road to Resilience
, and presentation from     P.K. Mickens on
"The importance of Character"
followed by (NCADV) Steven Bradley tips for social media safety. There were several surprises that night; Shofar Magazine unveiled its Blazing Summer Edition Cover, a triple feature to include:  Florida's State Attorney Angela B. Corey, National Recording Artist Jekalyn Carr, Pastor of The Sanctuary of Orange County and Oxygen's T.V. reality star Jay Haizip.                 Visit
www.Shofarmagazine.com
to view cover or subscribe to the magazine.
Select honorees received awards for their support of the organization's mission of violence prevention: Sam's Club, Channel 4 News, Pastor Albert Byrd, and Angela B. Corey. With an audience filled with community leaders and supporters the speakers provided valuable insight on internet safety, violence prevention, and character building. Both youth and adults left with violence prevention materials and (D.I.P.) signature hand towels as a reminder of the events theme "Your Knowledge is Your Power." (D.I.P) hopes to host more empowerment events in the near future to continue raising awareness and funds to fight against domestic violence.  For more info or to donate visit
www.Dipfoundation.org
                                                                                                                                      Corporate Sponsors: Walmart, Sams Club, Home Depot, Panera Bread, Chick Fil A, MAC, & Target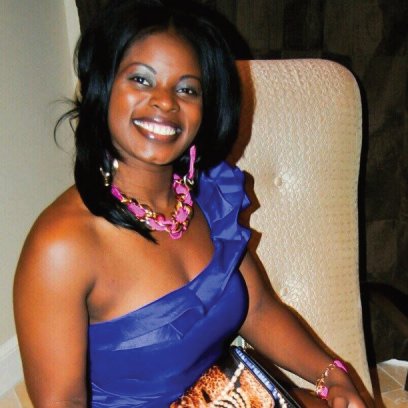 Did you know that there is nothing as powerful as a changed mind?
You can change your hair, your clothing, your address, your spouse, your church, your residence. But if you don't change your mind the same experience will perpetuate itself over and over again because everything outwardly changed, but nothing inwardly changed. "Whatever you hold in your mind will tend to occur in your life. If you continue to believe as you have always believed, you will continue to act as you have always acted. If you continue to act as you have always acted, you will continue to get what you have always gotten. If you want different results in your life or your work, all you have to do is change your mind."
Divine Intervention & Prevention ( D.I.P.) Foundation, Inc. will launch it's 2015 Empowerment series Tuesday, May 12th, 7 PM at Holiday Hill Baptist Church 730 Mandalay Rd Jacksonville, FL. The series theme :
 I'm Changing My Mind is a six week inspirational, experiential, community building, and educational family friendly event designed to inspire, engage, enlighten, and empower attendees. The keynote speaker for the inaugural session will be ( D.I.P.) Executive Director P.K. Mickens- Minister, National Journalist, and Domestic Violence Survivor. An undying passion now emits from her essence to see all of our communities violence-free. D.I.P. Foundation Inc, - A not for profit domestic violence education organization that believes community education and leadership are building blocks to prevent dating and domestic violence. ( D.I.P.) Prevention and Education program works with community members to identify strategies that promote healthy individuals, relationships and communities.
Start making plans to be a part of this journey as we touch the hearts and spirits of men, women, families and communities.This event is free and open to the public. Light refreshments will be served. We encourage you to make a donation and reserve your space in advance online
Dipfoundation.org
 For additional information call Nina  (904) 800-9624 .Your tax deductible monetary gift, no matter the size, will help make a difference in the lives of individuals and families right here in Jacksonville, FL who are facing domestic violence. It's time to change the startling statistics by empowering survivors – co-workers, family, friends and even strangers – to get involved and become supporters . It's also time to stop asking why victims stay in violent relationships, and instead start asking what we can do as a society to help."
/