D.I.P. Outreach Ministry- Violence & Hunger Prevention
Divine Intervention & Prevention
OUTREACH MINISTRY OF H.E.L.P.
The Divine Intervention & Prevention also know as (DIP) an outreach ministry for the prevention of domestic violence/abuse & hunger who has helped over 2,500 families in need is hosting the II Annual Tools 4 School Supply & Clothing Giveaway to lend a helping hand to students ages 4-18 that are in need. The event will be held at D.I.P. Outreach 2078 Cassat Ave Jacksonville, FL 32210 on Saturday August 4th @ 10am.
The average cost for back to school supplies and clothing is approximately $1500 according to NBC news, that is just as much as the average mortgage payment for many individuals. According to NCCP.org children make up 34 percent of people in poverty. Most low- income families have to look to the government for assistance, food, clothing, and other necessities such as; hygiene items and school supplies that are needed for children; many times this issue is not addressed on a regular basis or plaintively at all. No child wants to go to school without the proper clothing, shoes, or school supplies. The less fortunate seem to be one of the first to be bullied as a result of  this particular lack. The community can support Tools 4 School Jax by donating gently used clothing, shoes, handbags, backpacks, costume jewelry, personal care items, new socks, & underwear, for all ages. For a detailed list visit
www.facebook.com/diprestores
 or call (904) 438-4347.
DIP invigorates community supporters to do a good deed by making a contribution to DIP Outreach by visiting
www.Dipfoundation.org
website or simply Cash app @Dipfoundation.Your contribution will help to motivate both the parents and their children who are in need, whereby letting them know that they are not alone.  Your donation will also help the youth mentally by boosting their overall self esteem. "When you look good, you feel good. Confidence with what you're wearing is very important. If you feel good, you will always perform your best without worrying about anything- Maria Sharapova."  Here is an opportunity to help with giving  over 300 students the supplies they need for a successful school year as, these children cannot reach their full potential without adequate support.
In kind donations can be dropped off to one of the following locations :
D.I.P Outreach Ministry  2078 Cassat Ave. Jax, Fl 32210
Elegant Beauty Supplies- 6139 103Rd Jax, Fl 32210
State Farm 12620 Beach Blvd #8 Jax, Fl 32246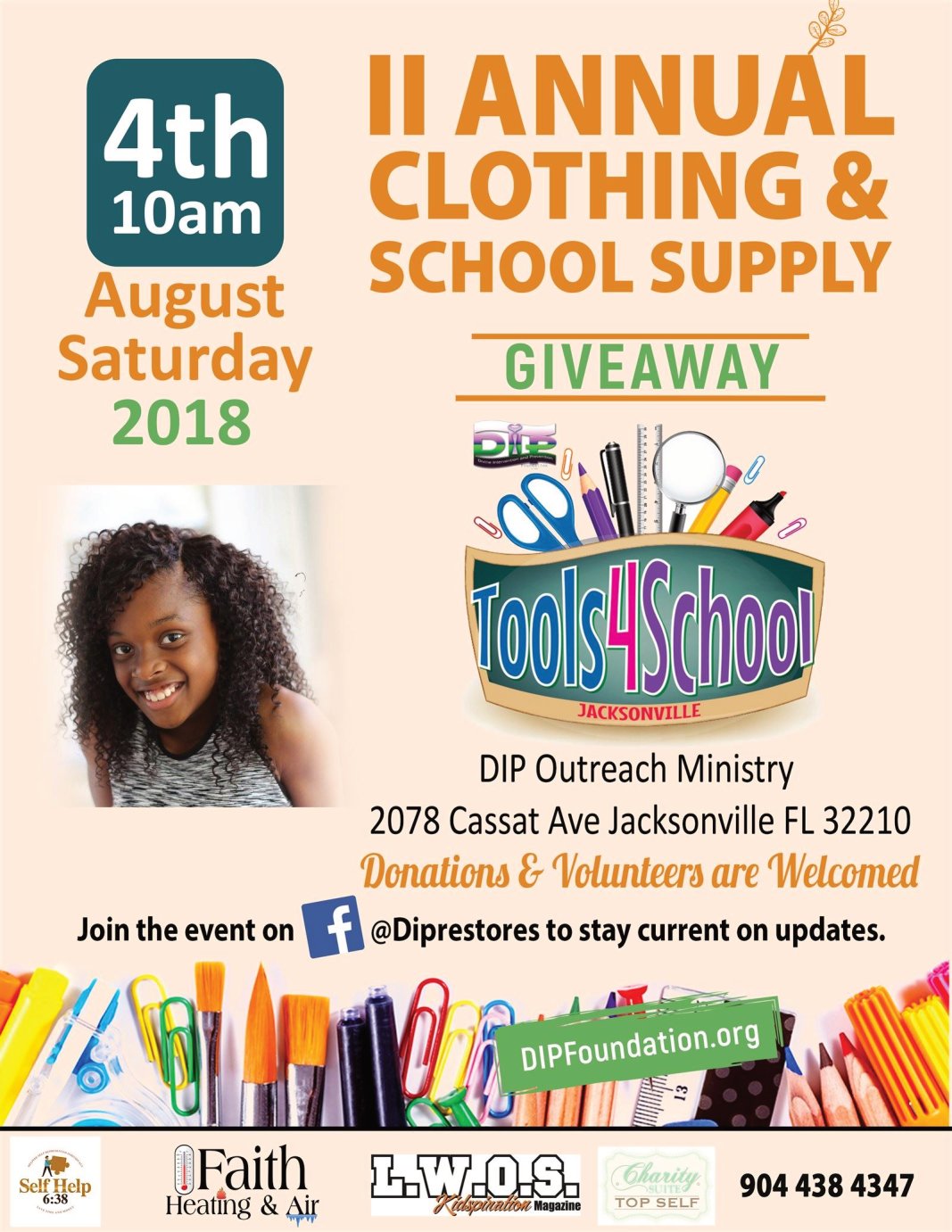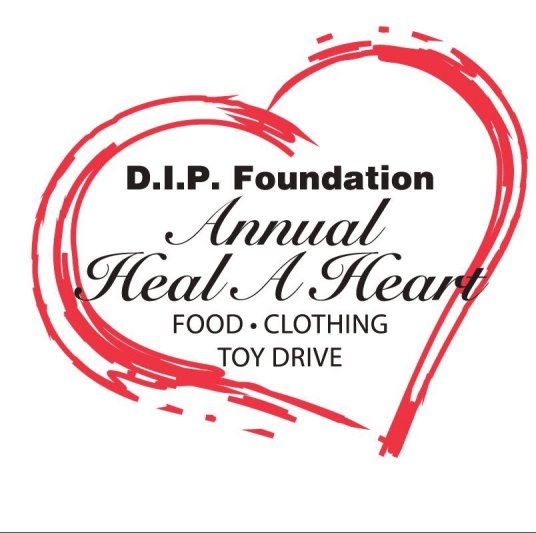 On Thursday Dec.21, 2017 families in need gathered by the hundreds to receive items donated to the D.I.P. Foundation for the less fortunate. Items such as: blankets, socks, body wash, mouthwash, toothpaste, clothing all sizes, and toys were distributed to over 250 individuals. The items were donated by various community supporters, the event sponsors were  L.W.O.S Magazine, The K.L.M. Corp, Faith Heating & Air. 
Over 25 bikes were given out to boys and girls yielding lots of smiles; as this was priceless.  The Holidays can bring stress upon those who are in need of the bare living necessities Heal A Heart Food Clothing & Toy Giveaway purpose is to ease some of this stress. This is the organization's 5th year hosting the event and hopes to expand its mission to help even more families next year with the communities help. 
Donations are accepted year round for Heal A Heart. A special thanks to Jeremiah Jackson with Paradise Dreamers and Florida Blue. To learn more about D.I.P. Foundation visit: www. Dipfoundation.org or Call (904) 438-4347
Jacksonville, FL- with the holiday season just around the corner, D.I.P. is accepting donations for its 3rd Annual Heal A Heart Food, Clothing, & Toy drive sponsored by Shofar Magazine & various local community organizations. For many of the children & families D.I.P. serves, the holidays are difficult. Some children maybe separated from their parents, others from their siblings. At least 90% come from families living below federal poverty level. All have experienced significant trauma that taints the warm holiday season. We invite you to make the holidays brighter for these children & families.  Join our Heal A Heart Food, Clothing, & Toy Drive!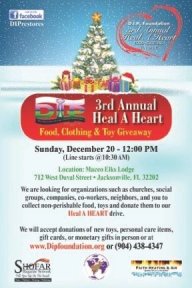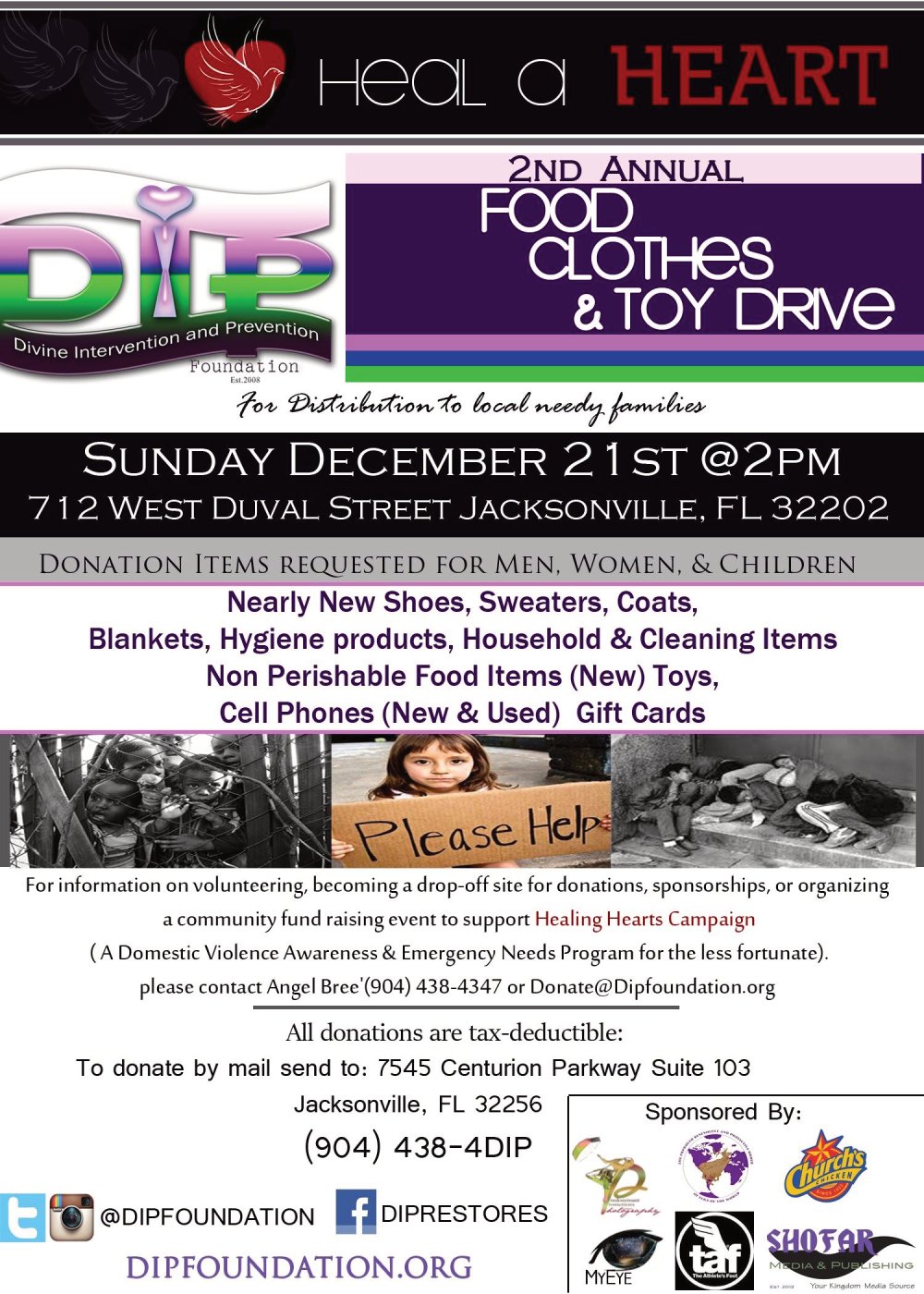 Chris Brown has it wrong: The world, at times, isn't loyal. Society tends to be loyal to the hustle and bustle of their daily lives. Their minds are consumed with their own problems or scrolling down their Facebook timeline to get a glimpse of Kim Kardashian's latest antics. As we enter into the holiday season and sit at our family dinner tables breaking bread and giving thanks, we can choose to un-follow society's lead and ground ourselves into the spirit of giving to our fellowman in need. During November and December, stress runs high in most families. Finances are stretched to buy gifts or to travel to see family members. Seeing those family members we don't quite get along with or not being able to see relatives and friends can add even more stress to a relationship. Excessive alcohol consumption is usually an added factor at this time of year. Sometimes our expectations of what should happen compared to what actually happens can give us the holiday blues. Many of us try to out do ourselves during the holidays and arguments happen. But what about abuse during the season? How can it be prevented?On Sunday, December 21 D.I.P. Foundation will be hosting its 2 Annual Food, Clothing & Toy Giveaway: 712 West Duval Street Jacksonville, FL 32202 at 2PM.  The event's purpose is to rally community supporters together in order to ease someone's pain by bringing some holiday cheer to needy families in Jacksonville. We all endure our own challenges in our lives.  We go through them so that we may be a beacon of light to others.  Help someone know that there is a light at the end of the tunnel.  Volunteer your time, lend a listening ear and heart, or donate funds to help the D.I.P. Foundation with its domestic violence prevention mission.About D.I.P. Foundation: A local  grassroots 501 (c) 3 charity dedicated to improving the quality of life for abused men, women, children, & families  by  providing education in the community on how to identify, prevent, and intervene in domestic abuse situations . To learn more: visit
www.dipfoundation.org
The following donations are needed:
Nearly New Shoes
Sweaters
Coats
Blankets
Hygiene products
Household & Cleaning Items
Nonperishable Food Items (New)
Toys
Cell Phones (New & Used)
Gift Cards

Imagine the families you can help with your donations. Let's be loyal to the Golden Rule "Do unto toothers as you would have them do unto you," and drop off your donations at the following locations: or call for donation pickups.
(D.I.P. Foundation Booth)  Norwood Flea Market—5301 Norwood Ave
Church's Chicken—5870 Normandy Blvd.
Wing King Café—4330 Brentwood Ave.
Athlete's Foot—5920 Normandy Blvd.
Athlete's Foot—6024 Merrill Road
For more information, sponsorship, or volunteering, please calls (904) 438-4347
Give the gift of generosity to local, needy families through your donations today!
The pressures of celebrating the holidays sometimes causes tempers to flare, energy levels to soar and arguments to ensue, culminating in an explosion of domestic violence and abuse. Parties, celebrations and festivities are everywhere and the temptation for excess can be intoxicating. Alcohol, drugs, heightened emotions and the wrong combination of family members, are very often contributing factors in violent holiday explosions. In fact, the holiday season can be an exceptionally tough emotional period for many domestic violence victims, even children. Most loving mothers will do whatever is necessary to create a fun and festive holiday environment for her children, however, for children living in a home where violence occurs, very often, Christmas represents a prolonged period of trepidation due to the anticipation of violence.
D.I.P. Foundation is anon-profit that is working to prevent and end domestic violence by developing innovative programs and events that:
support victims, survivors, and their families and help them get to safety
educate individuals about the critical roles that we all have to play in promoting healthy relationships
promote mutual respect as the foundation of healthy relationships
support children who are exposed to violence at home and in school



"On Saturday, December 13, & Sunday December 14 from 1 – 4pm, D.I.P. Foundation invites children to have their pictures taken with Santa Claus! Parents will be pleased to donate just $5 for a professional 4"x6" ready- to-display portrait at D.I.P. Foundation Crime Prevention Studio which is located at 5301 Norwood Avenue.  Pic A Fit Against violence while celebrating the holiday season with a festive event for the whole family; free egg nog & cookies will be served."




Upcoming Event:Free Food, Clothing, Toy Drive December 21 2PM 712 W. Duval St




Volunteers are encouraged to join D.I.P. Foundation with its prevention of domestic violence mission and supporting those affected by it. For more information visit:

www.Dipfoundation,org

  to make a donation contact Angel Bree' 904 438-4347 or email'

[email protected]







he community & various corporate sponsors supported the D.I.P. Foundation efforts to provide clothing, food, hygiene, and toiletries for distribution to local needy families including the elderly, disabled, children and teens. Since purchasing daily living necessities can be a burden for many that are lacking in financial resources, it is not surprising that the items provided by the D.I.P. Foundation by way of its supporters are often the only resources many low-income residents will receive this season.




There were over one hundred smiling faces today at the D.I.P. Foundation giveaway. Healing Hearts Campaign launch & giveaway, a national awareness & emergency needs program. The campaign is designed to inform men, women, and children about domestic violence through a series of awareness events that will take place throughout the course of 2014. Healing Hearts provides a vital link to emergency services such as: food, clothing, and hygiene products to needy families. D.I.P. Foundation hopes to provide giveaways such as this monthly and to increase the one hundred families that were served to 500  in the first quarter.




Corporate sponsors to include: Sam's Club, Discount Fixtures, Brothers 2000, and various community supporters.

 


If you would like more information on organizing a community fundraising event to support Healing Hearts, please contact Angel Bree' Development Coordinator at 

[email protected]

 or (904) 881-1067.

 


For more information on how and where to deliver donations call










0

/