D.I.P. Outreach Ministry- Violence & Hunger Prevention
Divine Intervention & Prevention
OUTREACH MINISTRY OF H.E.L.P.
The D.I.P. Foundation is gearing up for their 7th Annual Heal A Heart Food Clothing & Toy Giveaway December 23rd at 3Pm. This outreach  event is one that sought out due to the joy it brings to the children in the community year after year. Heal A Heart provides non perishable food, clothing. shoes, hygiene items, and we dare not to mention toys to children in attendance ages 1-12 years of age. The organization makes this possible through the generous contributions of sponsors corporate and individuals who share the same passion to Heal A Heart  and spread love during the holiday season. The event will be held at DIP Foundation Outreach Ministry 2078 Cassat Ave Jacksonville, FL 32210. Donations of every kind are appreciated. Checkout the video from last year it was an amazing celebration. 
The Divine Intervention & Prevention also know as (DIP) an outreach ministry for the prevention of domestic violence/abuse & hunger who has helped over 2,500 families in need is hosting the II Annual Tools 4 School Supply & Clothing Giveaway to lend a helping hand to students ages 4-18 that are in need. The event will be held at D.I.P. Outreach 2078 Cassat Ave Jacksonville, FL 32210 on Saturday August 4th @ 10am.
The average cost for back to school supplies and clothing is approximately $1500 according to NBC news, that is just as much as the average mortgage payment for many individuals. According to NCCP.org children make up 34 percent of people in poverty. Most low- income families have to look to the government for assistance, food, clothing, and other necessities such as; hygiene items and school supplies that are needed for children; many times this issue is not addressed on a regular basis or plaintively at all. No child wants to go to school without the proper clothing, shoes, or school supplies. The less fortunate seem to be one of the first to be bullied as a result of  this particular lack. The community can support Tools 4 School Jax by donating gently used clothing, shoes, handbags, backpacks, costume jewelry, personal care items, new socks, & underwear, for all ages. For a detailed list visit
www.facebook.com/diprestores
 or call (904) 438-4347.
DIP invigorates community supporters to do a good deed by making a contribution to DIP Outreach by visiting
www.Dipfoundation.org
website or simply Cash app @Dipfoundation.Your contribution will help to motivate both the parents and their children who are in need, whereby letting them know that they are not alone.  Your donation will also help the youth mentally by boosting their overall self esteem. "When you look good, you feel good. Confidence with what you're wearing is very important. If you feel good, you will always perform your best without worrying about anything- Maria Sharapova."  Here is an opportunity to help with giving  over 300 students the supplies they need for a successful school year as, these children cannot reach their full potential without adequate support.
In kind donations can be dropped off to one of the following locations :
D.I.P Outreach Ministry  2078 Cassat Ave. Jax, Fl 32210
Elegant Beauty Supplies- 6139 103Rd Jax, Fl 32210
State Farm 12620 Beach Blvd #8 Jax, Fl 32246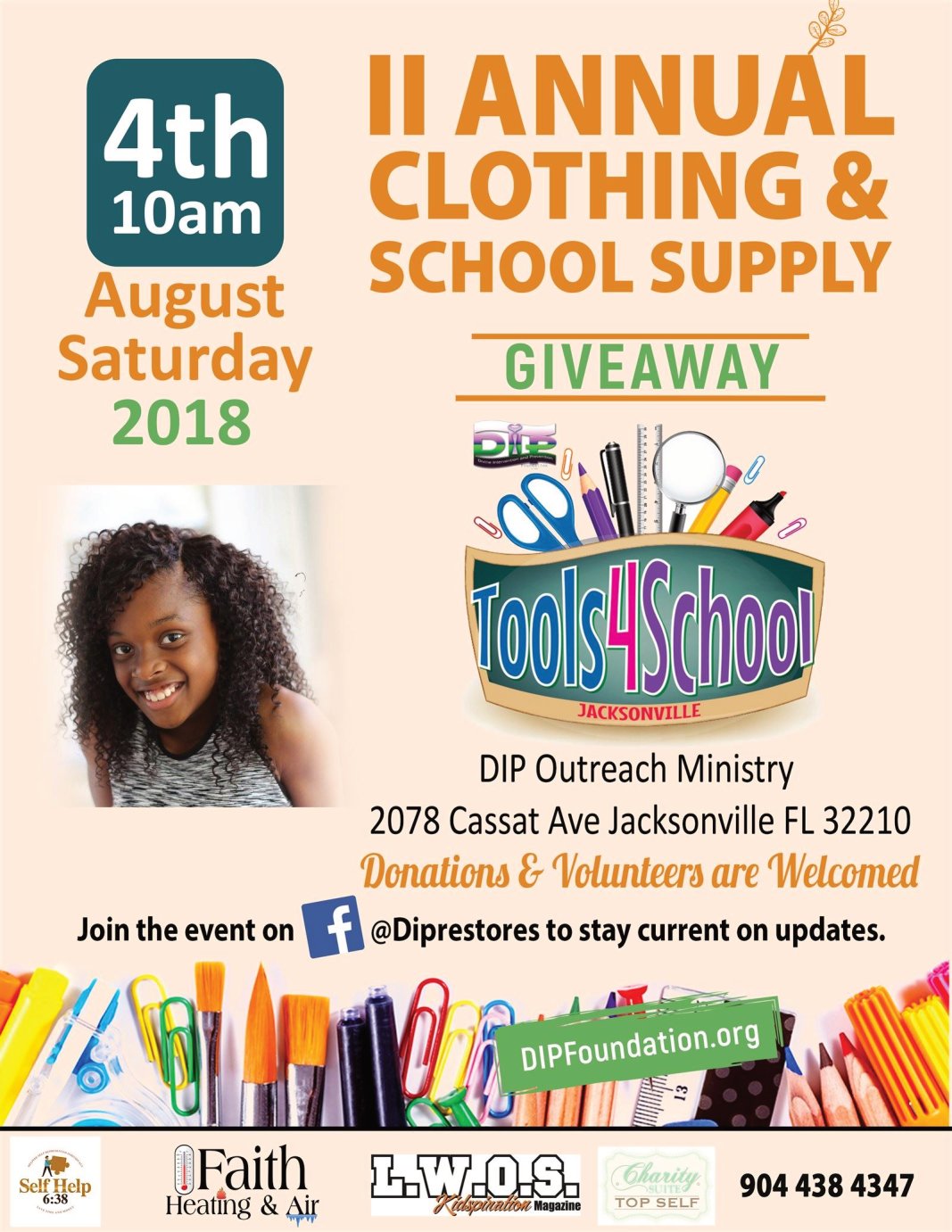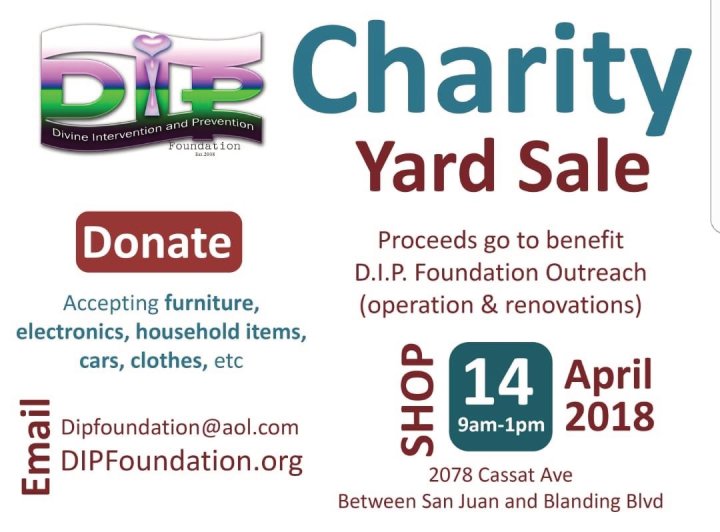 Join us for a sale of donated items that are gently used . The purpose of this event is to raise funds for the organization. We will also have food items available for donations as well. This is a great opportunity to get rid of unwanted items in your garage and donate them to a worthy cause like DIP's. 
We also have a donation drop box on site that you can use 24 hrs a day. Help us change lives one donation at a time.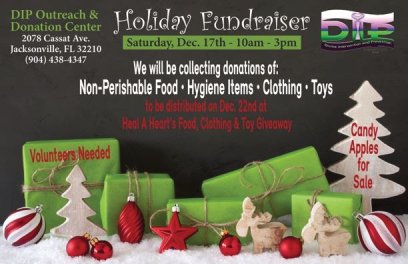 D.I.P. Outreach Ministry is hosting their holiday fundraiser on December 17th @10am-2pm
 2078 Cassat Avenue items such as clothing, non-perishable food items, toys, and personal care items will be collected. Candy apples and bottled water will be available for a donation.
The fundraiser will help to feel attendees at their Annual #HealAHeart giveaway which will be held on December 22nd.
For more info call 904 438-4347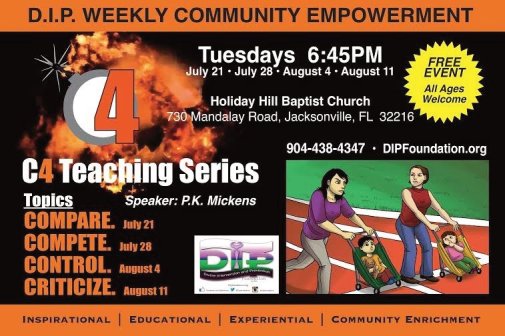 Empowerment Tuesdays is a weekly inspirational, experiential, educational meeting for the community all ages. It gives attendees an opportunity to worship, fellowship, evaluate themselves based on the message that given.  D.I.P. is an educational Outreach ministry for the prevention of domestic violence, our messages for the empowerment series are bible based and point out how everyone is subject to becoming an abuser or being abused. D.I.P. believes that divine healing takes place when we get to the root that is causing the fruit of bad behavior. This is not a traditional meeting about domestic violence and abuse simply because those who are abusing or being abused would not attend unless they were court ordered. However, the power of the Holy Spirit has and will continue to convict attendees to see that there is a problem and Jesus is the only One to solve it.
 We simply have to meet people where they are to disciple them through the word of God so they may apply it in every aspect of their life.
The pressures of celebrating the holidays sometimes causes tempers to flare, energy levels to soar and arguments to ensue, culminating in an explosion of domestic violence and abuse. Parties, celebrations and festivities are everywhere and the temptation for excess can be intoxicating. Alcohol, drugs, heightened emotions and the wrong combination of family members, are very often contributing factors in violent holiday explosions. In fact, the holiday season can be an exceptionally tough emotional period for many domestic violence victims, even children. Most loving mothers will do whatever is necessary to create a fun and festive holiday environment for her children, however, for children living in a home where violence occurs, very often, Christmas represents a prolonged period of trepidation due to the anticipation of violence.
D.I.P. Foundation is anon-profit that is working to prevent and end domestic violence by developing innovative programs and events that:
support victims, survivors, and their families and help them get to safety
educate individuals about the critical roles that we all have to play in promoting healthy relationships
promote mutual respect as the foundation of healthy relationships
support children who are exposed to violence at home and in school



"On Saturday, December 13, & Sunday December 14 from 1 – 4pm, D.I.P. Foundation invites children to have their pictures taken with Santa Claus! Parents will be pleased to donate just $5 for a professional 4"x6" ready- to-display portrait at D.I.P. Foundation Crime Prevention Studio which is located at 5301 Norwood Avenue.  Pic A Fit Against violence while celebrating the holiday season with a festive event for the whole family; free egg nog & cookies will be served."




Upcoming Event:Free Food, Clothing, Toy Drive December 21 2PM 712 W. Duval St




Volunteers are encouraged to join D.I.P. Foundation with its prevention of domestic violence mission and supporting those affected by it. For more information visit:

www.Dipfoundation,org

  to make a donation contact Angel Bree' 904 438-4347 or email'

[email protected]







 











































































































































TheHeels & Hearts Fashion Shoe Gala Featuring Celebrity Actress/Model Lisa Raye McCoy is rescheduled- New Date to Be Announced




 Heels & Hearts Fashion Shoe Gala, a Premier Fashion Show all about shoes presented by Shofar Media & Publishing Corp originally set for March 23 at the Hyatt Regency Riverfront in Jacksonville, FL will be rescheduled due to an overwhelming interest & response to the fashion show.  Tickets already purchased will be valid for the new date.  Anyone who already has a ticket but can't attend in April can get a refund up to the new date. Promotional tickets are not eligible for a refund.




For the first time in Jacksonville, Florida a star-studded red carpet event, High Heel Fashion Show with silent and live auctions,poetry, dance performances, live musical entertainment & dancing.




   Featuring Lisa Raye McCoy (Player's Club & VH1's s Hit T.V. Reality Show Thicker Than water). 







The goal of the gala is to draw attention to an issue that affects women of every race, age and background, and to work to change the course of domestic violence for all survivors and their families. Proceeds from the event will help fund the D.I.P. Foundation ongoing efforts to help individuals and families that have been impacted by domestic violence. To find out more about the organization visit

www.Dipfoundation.org 




The live auction includes: NFL memorabilia, Gift certificates, and high heels donated by celebrities. Confirmed sponsors of the upcoming event include: Shofar Media & Publishing Corp, Phil's Shoes, Jacksonville Jaguars, Estee' Lauder, Belk, Fusion Band, Encore Event Technologies. 


   


To purchase tickets for The Heels & Hearts Fashion Shoe Gala event call 904 800-9624 or visit www.shofarmagazine.com. Tickets will not be available at the door. To learn more about sponsorship opportunities for the event, contact the fashion show coordinator, at 561 526 3126 or by email (at)

[email protected]

Media | Talent| Interview opportunities: Email: [email protected]




he community & various corporate sponsors supported the D.I.P. Foundation efforts to provide clothing, food, hygiene, and toiletries for distribution to local needy families including the elderly, disabled, children and teens. Since purchasing daily living necessities can be a burden for many that are lacking in financial resources, it is not surprising that the items provided by the D.I.P. Foundation by way of its supporters are often the only resources many low-income residents will receive this season.




There were over one hundred smiling faces today at the D.I.P. Foundation giveaway. Healing Hearts Campaign launch & giveaway, a national awareness & emergency needs program. The campaign is designed to inform men, women, and children about domestic violence through a series of awareness events that will take place throughout the course of 2014. Healing Hearts provides a vital link to emergency services such as: food, clothing, and hygiene products to needy families. D.I.P. Foundation hopes to provide giveaways such as this monthly and to increase the one hundred families that were served to 500  in the first quarter.




Corporate sponsors to include: Sam's Club, Discount Fixtures, Brothers 2000, and various community supporters.

 


If you would like more information on organizing a community fundraising event to support Healing Hearts, please contact Angel Bree' Development Coordinator at 

[email protected]

 or (904) 881-1067.

 


For more information on how and where to deliver donations call










Domestic Violence is a topic that many Americans refuse to address until something tragic happens. As the crime rate increases and the hospitals and funeral intakes rise, as U.S. citizens with rights to freedom of speech why are we not doing and saying more?




Social medi

a has become very influential in today's society, can we use this tool of influential power to speak up and out against domestic violence? Truth is violence is happening in every facet of life, the sad thing is that many  of us believe that we are not affected.  Reality says we are all affected by someone else anger and pain which both correlates to domestic violence disputes.  Consider partnering with organizations that encourage those who may have experienced abuse to come forth and they show compassion to each individual without stereotyping those persons. Let's do more in our world.




I believe that together we can make our communities violence-free, it starts with you and me.




www.dipfoundation.org

0

/